Announcing my new book:
 

SPIES IN THE AMERICAN REVOLUTION FOR KIDS

The American Revolution wasn't just won by soldiers on the battlefield. Spies--the brave men and women who secretly gathered information and midled their enemies-were just as important in the war effort. This book for espionage fans will reveal the bravery, clever plots, and amazing inventive gadgets that helped America's first spies accomplish their missions.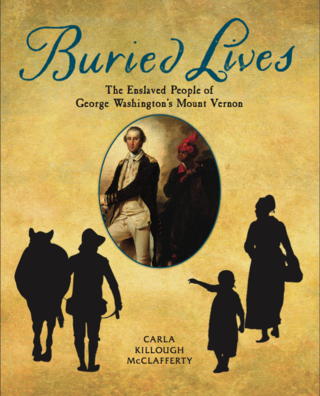 BURIED LIVES: THE ENSLAVED PEOPLE OF GEORGE WASHINGTON'S MOUNT VERNON

An illuminating look at the complex relationships between George Washington and the enslaved people of Mount Vernon, and the history still being uncovered there.

When he was eleven years old, George Washington inherited ten human beings. His own life has been well chronicled, but the lives of the people he owned–the people who supported his plantation and were buried in unmarked graves there–have not. Using fascinating primary source material and photographs of historical artifacts, Carla McClafferty sheds light on the lives of several people George Washington owned; the property laws of the day that complicated his decision to free them; and the Cemetery Survey, an archeological dig (set to conclude in 2018) that is shaping our understanding of Mount Vernon's Slave Cemetery. Poignant and thought-provoking, Buried Lives blends the past with the present in a forward-looking account of a haunting piece of American history.

Includes a foreword by Zsun-nee Matema, a descendant one of the enslaved people at Mount Vernon who is highlighted in this book, backmatter outlining the author's sources, and an index.

Review in The Wall Street Journal, "a riveting work of illustrated nonfiction."
STARRED review in Booklist, "An enlightening presentation on slavery in the late 1700s."
STARRED REVIEW on ShelfAwareness.com, "McClafferty's Buried Lives is long overdue, careful testimony for a new generation of questioning, challenging readers."
Kirkus review of Buried Lives, "McClafferty has written a monumental book about the lives of the slaves that lived and worked at George Washington's Mount Vernon."
Review by Vicki Cobb, "The power behind Carla Killough McClafferty's Buried Lives: The Enslaved People of George Washington's Mount Vernon comes from her dispassionate, sensitive, and respectful rendering of a story of people whose names we know as merchandise on a bill of sale."
A Junior Library Guild Selection!