In Defiance of Hitler: The Secret Mission of Varian Fry
Varian Fry was a Harvard educated journalist who went to Marseilles, France in 1940 and rescued more than 2000 predominatly Jewish refugees before they were arrested by the Nazis. He helped many famous people out of Europe including Marc Chagal, Max Ernst, Heinrich Mann.

Varian Fry was the first of only three Americans to honored at the Yad Vashem as Righteous Among the Nations.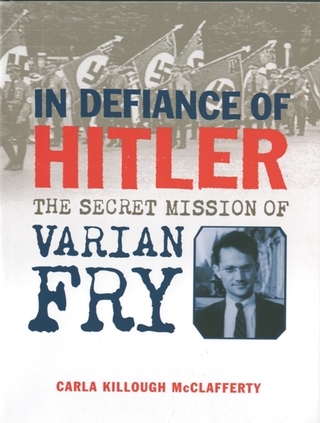 WOULD YOU LIKE TO SIGN A PETITION ASKING THE UNITED STATES POSTAL SERVICE TO HONOR VARIAN FRY BY PLACING HIS IMAGE ON A POSTAGE STAMP?

Email me and I will send you the petition.
NOW AVAILABLE IN AUDIOBOOK!
IN DEFIANCE OF HITLER: THE SECRET MISSION OF VARIAN FRY
Lesson plans for
In Defiance of Hitler: The Secret Mission of Varian Fry
REVIEWS FOR
IN DEFIANCE OF HITLER: THE SECRET MISSION OF VARIAN FRY
****STARRED REVIEW****
BOOKLIST

Rescue stories bring hope to the Holocaust darkness, and this stirring account of a young New York City journalist who secretly helped more than 2,000 refugees escape Nazi-occupied France blends exciting adventure with the grim history. Before the U.S. entered the war, Fry, 32, spent a year in Marseilles, using his relief organization as a cover for a hidden rescue operation which saved well-known artists, politicians, and scientists, including Marc Chagall and Heinrich Mann. In fact, part of the story is how Fry chose the few to save from all the desperate who lined up at his office. Along with the suspense of police raids and the gripping particulars about the brave rescuers on Fry's team comes the knowledge that victims faced with extermination were not welcome in the U.S. The author begins with a brief overview of Hitler's rise and the threat to the Jews, and then draws heavily on Fry's autobiography and his letters home, which detail his increasing stress. Some readers will skip the details, but many will want all the amazing information about the unassuming hero who saved so many. Photos are scattered throughout, and source notes and bibliography are appended.
— Hazel Rochman


KIRKUS
At the behest of the Emergency Rescue Committee, a non-governmental organization, journalist Varian Fry traveled to Marseilles, France, in the summer of 1940. His two-week mission was to find and rescue from the Nazis as many artists, authors and musicians as he could locate. They would need complex sets of travel documents, sometimes forged, and it became obvious that the job could never be accomplished in two weeks. Varian ended up spending over a year in France before he was forced to leave, ultimately rescuing more than 2,000 people. The effort cost him his marriage and his job. . .
Varian's heroic story is fascinating . . .
KIRKUS

SCHOOL LIBRARY JOURNAL
Fry was a young American journalist working in pre-World War II Germany when he witnessed an anti-Semitic uprising led by storm troopers, and he was inspired, over 13 months of espionage and clandestine efforts during the war, to save people from impending annihilation. Back in New York City and following the French-German armistice in 1940 that provided Germany control over France, he realized that numerous renowned artists, writers, and scientists, both Jews and non-Jews, would be trapped under the Vichy government. Fry joined the newly formed Emergency Rescue Committee and volunteered to lead an escape mission for as many of these refugees as possible. His work began as a one-man operation in Marseilles and quickly grew to a fully staffed unit posing as a refugee center. Fry not only helped the famous and talented, but also many ordinary Jews to escape France through Spain and Portugal and then to ports beyond. McClafferty describes an exciting if not daring and altruistic episode in this righteous gentile's life. Numerous black-and-white photographs of the period and individuals who worked closely with Fry augment the readable and well-documented text. This is an intriguing look at how life completely changed for so many and how ingenuity and daring used by a few outwitted the enemy and saved lives.–Rita Soltan, Youth Services Consultant, West Bloomfield, MI
SCHOOL LIBRARY JOURNAL

ALAN
ASSEMBLY ON LITERATURE FOR ADOLESCENTS (ALAN), NCTE
ALAN Review Summer 2008 Article
Goodson, F Todd
In Defiance of Hitler: The Secret Mission of Varian Fry
Carla Killough McClafferty Farrar, Straus, and Giroux, 2008, 208 pp., $19.95 History/Nonfiction ISBN: 978-0-374-38204-9
In Defiance of Hitler offers an accessible and interesting presentation of the efforts of Varian Fry to help people escape the Holocaust. The narrative begins with Fry's observation of a racist mob in Berlin in July 1935 and continues through his life as a writer following the war.
This book is a valuable addition to sources about the Holocaust for young people. The book includes numerous black and white photographs from the period, and the narrative offers an insight to the conditions in occupied France and the methods Fry and his associates used to assist in the escape of Jews and Anti-Nazi French citizens. The text is accessible to adolescents, offering a detailed and accurate representation of historical events in a narrative style replete with compelling details. The book should be included in the libraries of all secondary schools, and the book provides a vivid example of an individual taking great personal risks on behalf of the needs of others.
F. Todd Goodson
Manhattan, KS
ALAN


Lazyreaders.com by Dr. Danny Brassell

Every now and then a book comes along that just blows me away. Read the left inside flap of this book jacket: "On August 4, 1940, an American magazine editor named Varian Fry flew from New York City to Lisbon, Portugal. He was en route to Marseilles, France, with $3,000 in cash taped to his leg beneath his pants, and in his pockets the names of approximately two hundred artists, scientists, and musicians – all enemies of the new Nazi regime. Varian Fry's mission was to help the refugees flee to safety." Fry winds up acting like an American-version of Oskar Schindler and helps a couple thousand refugees flee, including artist Marc Chagall and novelist Heinrich Mann. I loved this book! Sign me up for the movie about this fascinating man brought to life by this skillful author. Can you tell I liked it..as I typically try not to write this much about a book.